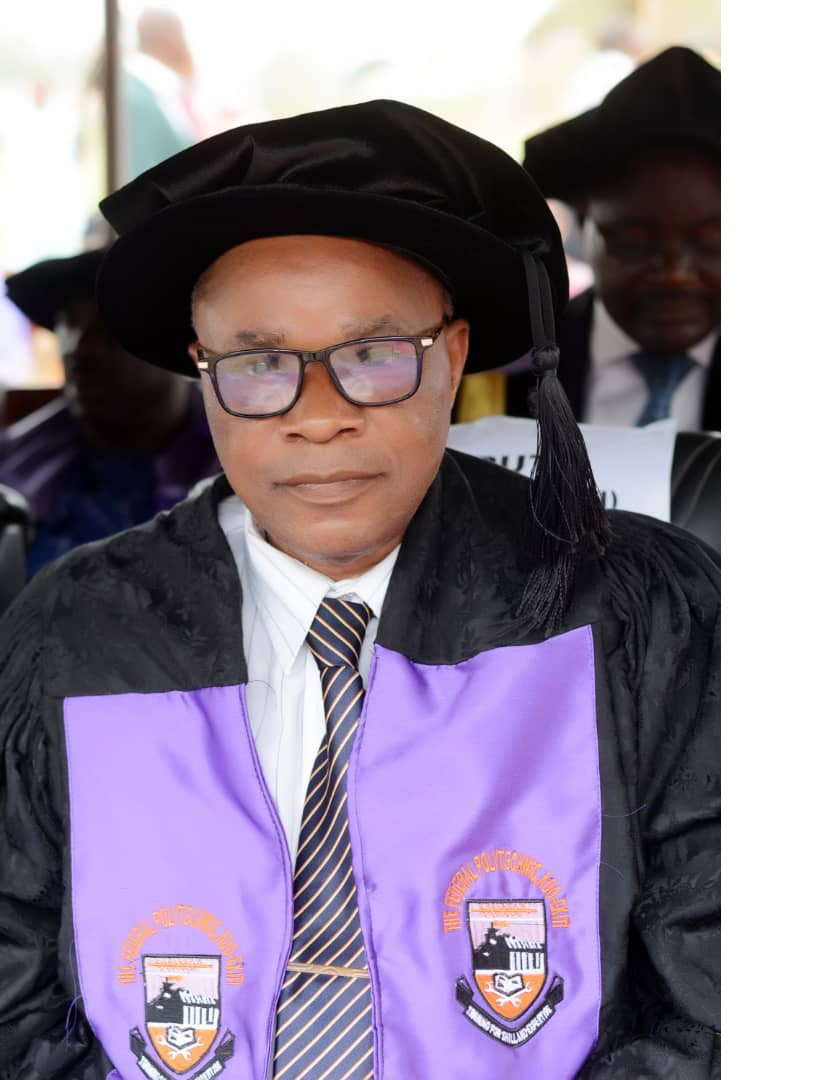 PROFILE OF BLDR GARBA SAADU OLORUNOJE, DEPUTY RECTOR ADMINISTRATION THE FEDERAL POLYTECHNIC, ADO-EKITI, EKITI STATE
Bldr. Garba Saadu Olorunoje was born in Ilorin, Ilorin West Local Government area of Kwara State more than six decades ago.
He attended Local Education Authority Primary School, Adeta-Ilorin between 1963-1969 and later to Oro Grammar School, Oro – Ilorin from 1970-1975 both in Kwara State.
His quest for higher learning exposition led him to the Lazar Nesic College of Technology, Subotica-Yugoslavia (Europe) in the present Serbia and Montenegro between 1977 and 1980 where he obtained a Diploma in Building Construction with Distinction before returning to Nigeria to add his earned knowledge to the development and nation-building of his country.  He later got B.Sc Building and M.Sc Construction management from the prestigious Ahmadu Bello University, Zaria, Kaduna State in 1984 and 1994 respectively and had defended his P.HD thesis in Civil Engineering (Construction Management) only that the ravaging COVID-19 effect on Educational Institution's academic calendar is still delaying it been certificated.
Bldr. Garba Saadu Olorunoje, the Deputy Rector Administration of the Federal Polytechnic, Ado-Ekiti rose to the echelon of his Academic and Professional Career in January, 2005 as a Chief Lecturer with specialization in Building Construction and Management, Maintenance Technology and Management and Works Planning.  Presently he is the most Senior Chief Lecturer in the School of Environmental Studies.  He has held various position of responsibilities meritoriously amongst which are:
Head of the Department of Building Technology, The Federal Polytechnic, Ado-Ekiti. (Thrice; 1999 – 2004, 2008 – 2010 and 2012 – 2014).
Dean, School of Environmental Studies, The Federal Polytechnic, Ado-Ekiti. (Twice; 2004 – 2006 and 2010 – 2012)
On Sabbatical at The Federal Polytechnic, Ede, Osun State where he also headed the Department of Building Technology. 2013 – 2014
School of Environmental Studies representative at the Academic Board of the Federal Polytechnic, Ado-Ekiti. (2016 – 2018).
Member, Federal Polytechnic, Ado-Ekiti Academic Staff Review committee. 2004 – 2006, 2010-2012.
Member, Federal Polytechnic Ado-Ekiti Management Committee. 2007 to Date.
Chairman, Ceremonial Committee of Federal Polytechnic, Adi-Ekiti. 2018 to Date.
The Deputy Rector Administration of The Federal Polytechnic, Ado-Ekiti. 2018 to date.
Secretary, Nigerian Institute of Building (NIOB) Ekiti State Chapter; 2000 – 2003.
Chairman, Nigerian Institute of Building (NIOB) Ekiti State Chapter; 2003 – 2005.
Coordinator for NIOB Professional Examinations Federal Polytechnic, Ado-Ekiti (National); 2004 – 2006.
Fellowship Member, Nigerian Institute of Building (NIOB) – 2020
Fellowship Member, Technical Education Practitioner of Nigeria (TEPAN) – 2019
Member, NIOB Craftsman Registration and Restructuring Committee (National). 2003
Member, NIOB Committee on Collapse of building (National). 2003
Member, CORBON Monitoring of building Construction Sites in Ekiti State. 2014 – 2018
Member, Construction Institute (C.I) –  2003
Member, NIOB Publication Committee. 1997 – 1999.
Member, American Society of Civil Engineers (ASCE) – 2003
Member, 5-member Expert Assessor's Committee in THE CITY AND GUILDS (C&G) of London Institute Programme and Qualification appointed by the Hon. Minister of Education 3rd and 4th April, 2002 at Abuja.
Chairman, Editorial Board, School of Environmental Studies Publication 2006 – 2018
Chairman, Land Use Committee of the Federal Polytechnic, Ado-Ekiti. 2013 to date.
Chairman, Survey Management Board of The Federal Polytechnic, Ado-Ekiti. 2018 to date.
Chairman Technical Committee on Central Bank of Nigeria (CBN) funded Tertiary Institution – Based Poultry Revival Project –
Chairman, Technical Committee on the documentations and Processes for the establishment of "The Polytechnic Microfinance Bank" (PMFB) – 2020.
Bldr. Olorunoje had in his quest to impact his wealth of wisdom and experience to the Building Profession especially the younger generation of builders and construction engineers which will translate to efficient and effective capacity building with all stakeholders in the management of the building profession in the National development plans led him to partook in various Conferences, Workshops and Trainings which includes the underlisted:
Health Safety Welfare on Construction Site. NIOB; Kaduna, 1997.
Lemon grass as alternative to sandcrete block. NIOB; Osun State, 1998.
Analysis of some problems in the management and cost control of public sector construction projects in Nigeria. NIOB; EKO AKETE.  1998.
Mandatory training programme on improving core practice of builders. Kaduna, June 2010.
Sourcing, Development and utilization of appropriate building materials for sustainable environment. Gombe, July, 2011.
Construction industry development; collaborations, innovations and capacity building Ilorin. August, 2014.
Building Industry and National Economic Development Benin City. August, 2016
Health, Safety, Enforcement fund Professionalism for sustainable development in the construction industry. Port-Harcourt. August, 2019.
And as a scholar of repute, Bldr. Garba Saadu OLORUNOJE also have many Articles and Journal Papers to his credit in this field of building and construction in the Nigeria landscape and economy. Some of the papers in his kitty includes:
Effective building maintenance and its significance in Nigeria. Builders Magazine, 1995.
The involvement of building maintenance manager in design process. Builders magazine, 1995.
Organization of Construction Industry. Builders International Magazine, 2000.
Education and training of professional builders, Builders international Magazine, 2000.
Effect of construction on the environment. Environmental Studies Journal, The Federal Polytechnic, Bida, Vol. 1.
Popularization of alternative local walling materials through dimensional variation. International Journal of Environmental Issues, Vol. 1.
Achieving the Millennium Development Goals (MDGs) in the housing sector of Nigeria through the evolution of appropriate technology. Environlink:  A journal of Physical and Environmental Development.  Vol. 1.
Bldr. G.S. Olorunoje having gone through the thick and thin in reaching this epoch stature and Status in the building and construction profession of the Nigeria economy is well respected for his humility, magnanimity, honesty, straight forwardness and unassuming tutoring which has endeared many people to him in and out of his primary field and profession irrespective of their gender, tribal and religious colouration.  He is an administrator of great repute and readily available to impact his wealth of experience and knowledge for the continuous growth and development of this noble profession in particular and Nigeria in general.
Bldr. Garba Saadu Olorunoje is married with golden children of impeachable characters.