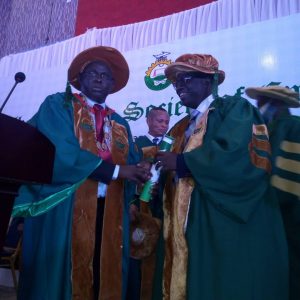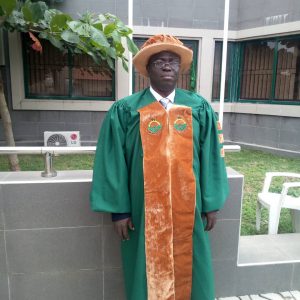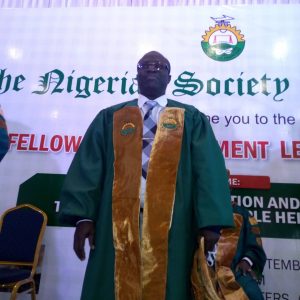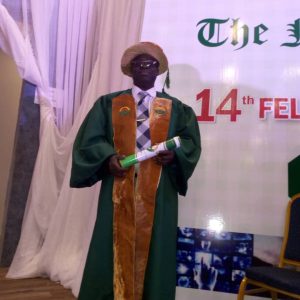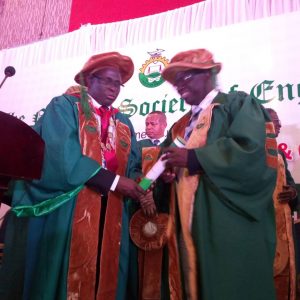 The Rector of the Federal Polytechnic, Ado-Ekiti, Dr. Dayo Hephzibah  Oladebeye was among the 100 accomplished Engineers Conferred with the  Fellowship of the Nigerian Society of Engineers (FNSE) at the 14th and 15th Fellowship Conferment Ceremony respectively held at the NSE headquarters in Abuja on Tuesday, 15th and Wednesday, 16th September, 2020.
The first batch of 50 fresh NSE Fellows decorated with the Fellowship insignias, included Dr. D.H. Oladebeye (FNSE) the Rector and another product of the Federal Polytechnic, Ado-Ekiti, Engr. Adebayo Adeola Ademilua (FNSE) who graduated as a Mining Engineer in 1983 as well as 98 other distinguished Engineers honoured at the NSE 14th Fellowship Conferment Ceremony.
The second batch of another 50 Engineers, who were conferred with the NSE Fellowship were also similarly decorated at the 15th Fellowship Conferment Ceremony on Wednesday 16th September, 2020. The very colourful Conferment Ceremony was held under the distinguished Chairmanship of Engr. Felix Atume, Chairman, Board of Fellows/College of Fellows, who congratulated the new NSE Fellows.
In his welcome remarks, Engr. Felix Atume said the newly admitted NSE Fellows had been thoroughly screened and researched with the conclusion that they were indeed qualified to be admitted as NSE Fellows following their evaluation and have been found qualified in Engineering practice and character.
The President of the Nigerian Society of Engineers, Engineer Babagana Mohammed (FNSE) who administered the Conferment rites on the new Fellows with the decoration of those physically present and pronouncement of decoration on those present online, who responded by bowing their heads and waving of hands to receive the NSE Fellow Insignias.
Engr. Dr. Umar Bindir, who delivered the 14th Fellowship Conferment Lecture spoke on the theme "Deploying Engineering Solutions to Address Core Social Challenges in Nigeria:  Special reference to Insecurity, Unemployment and out of School Children."  The Conferment Lecture, which was adjudged by all present as very elucidating, brilliant and practical with power points illustrations, kept the audience, glued to their seat edge for a solid hour.